In 1000 days, more than one thousand of the best athletes from around the world will compete in the quadrennial Virtus Global Games, hosted in Vichy, France for seven days of elite multi-sport competition.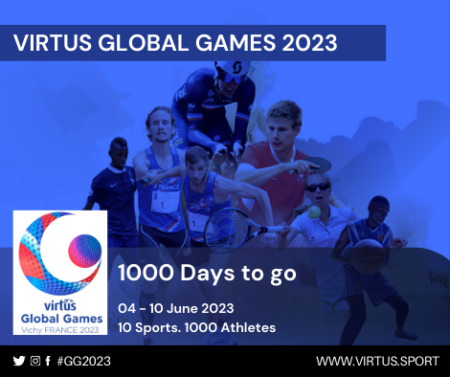 The sixth edition of the Virtus Global Games will be held from 4 to 10 June 2023. It is the world's largest elite sports event for athletes with an intellectual impairment. Athletes from Europe, America, Asia, Africa, and Oceania will perform across ten main sports.
Hosting this event, is the VIRTUS Member Organisation for France the Fédération Française du Sport Adapté – FFSA. The team at FFSA are highly experienced in delivering high quality international sporting events and have the support of government and sporting organisations to make the 2023 Virtus Global Games a remarkable event.
Virtus Global Games is the pinnacle event for athletes with an intellectual impairment, to compete in elite sports. It is specifically designed to be conducted every four years, in the preceding year to the Paralympics, which in 2024, is in Paris, France.
Many of the very best Virtus athletes in athletics, swimming and table tennis from the Global Games 2019 will represent their countries at the Tokyo 2020 Paralympics next year. The 2023 Virtus Global Games event will provide a world class platform for athletes with an intellectual impairment on the Journey to Paris 2024.
Virtus President, Marc Truffaut has directly seen the pride the athletes and the National Members feel when representing their countries in their chosen sports.
"Congratulations to the team at FFSA for winning the bid to host the sixth Global Games. GG2023 is growing in reputation and interest from Virtus members, and from the broader Paralympic movement," Mr Truffaut said.

"The Virtus Global Games is an event that all of our athletes and their families look forward to being involved in."

"This event supports our drive towards sport inclusion on a global stage, where we can challenge perceptions and change attitudes."
Established in 1971, Fédération Française du Sport Adapté – FFSA has developed sport opportunities for people with an intellectual impairment, contributing to society's view and perceptions about disability and, growing inclusion through sport. The federation's philosophy, whose activity is focused on the athlete, is summarised in its motto – Each to his own challenge.
FFSA has a strong foundation and experience in organising World and European Championships and the European Games. Leading the Local Organising Committee for this Global Games, is Ms Esther Nomme.
"A multi-sport event such as the Global Games is an honour to be part of and I am excited about my new role, working with the team to build memories and legacies for the city, the sport and most importantly the athletes." Ms Nomme said.

"Just like the athletes of any high-performance international sporting event, Virtus athletes train and prepare themselves for competing at their best, etching out personal bests and records, to showcase their talents and to break perceptions about intellectual impairment."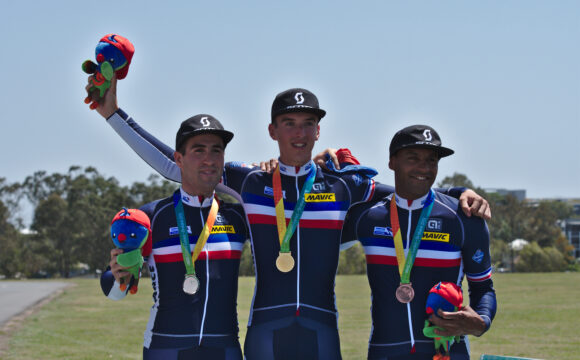 Three-time athletics Paralympic champion Marie-Amelie Le Fur also shares her delight and support on behalf of the French Paralympic and Sports Committee.
"As President of the CPSF (Comité Paralympique et Sportif Français), I am sincerely delighted that Vichy will become the next host city of the Global Games in 2023.

"One year before the Paralympic Games in Paris, this world-renowned competition will allow our athletes to prepare themselves for the games in the best conditions, and more generally for the whole of sport for people with intellectual impairment to shine in our territory." Ms Le Fur said.
The goal of FFSA's bid was to go well beyond the simple organisation of a sporting event, it falls within the desire to build a legacy in the French society and the whole Virtus community. One of the biggest advocates and supporter of the bid campaign and event, is Mr. Laurent Wauquiez, President of the Auvergne-Rhône-Alpes Region.
"Sandrine CHAIX, Special Advisor on Disability, and I are very pleased that Vichy has been chosen to host the Global Games in 2023. This spa town holds an important place in our region in the field of parasport and adapted sport, particularly thanks to CREPS, an exceptional sports facility", says Laurent WAUQUIEZ, President of the Auvergne-Rhône-Alpes Region.
The bid also came with resounding support from regional and national stakeholders.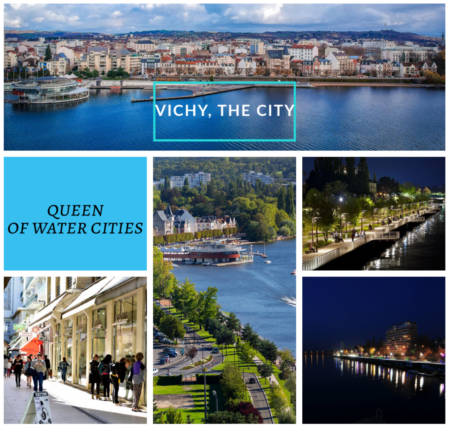 "The Senate is deeply committed to defending and promoting sports practice for all in our community, as well as encouraging them to participate in high-level competitions, to represent our country to the best of their abilities." – Mr. Gérard Larcher, President of the Sénat.
"Sports, beyond its impact on health and well-being, is also an important element for social cohesion, in and for our society, by way of the values it represents. Sports practice by people with visible or invisible disability, is thus, part of the priorities I am committed to defend in the different legislative debates that will be submitted to us." – Mr. Michel SAVIN, Senator of the Isère region in France.
"Vichy, a city of sports, have massively invested in renovating excellent facilities where all sports' disciplines have their place. Labeled 'Terre de jeux 2024' (Land of the Games 2024), our city is currently preparing to host Olympic and Paralympic delegations involved in Paris' Olympic Games. – Frédéric AGUILERA, Mayor of Vichy.