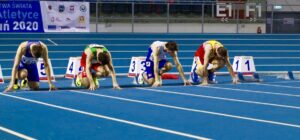 Ukrainian women are celebrating an astonishing performance at the 2020 Virtus World Indoor Athletics held in Torun, Poland from 25 to 27 February 2020 taking seven out of the fifteen available tournament golds.
This was the first competitive Virtus event held after Global Games in Brisbane last October and was hosted by Sprawni-Razem, Virtus member organization in Poland.
Yuliia Shuliar remains invincible in short distance racing (200m and 400m) while Danylina Liudmyla took the title for long distance events (800m and 3000m). Meanwhile Viktoriia Shpachynska clinched first place in the Shot put.
The medal tally was completed when their women's relay team (consisting of Olha Zazuliak, Danylina Liudmyla, Natalia Iezlovetska and Yuliia Shuliar) finished first in both 4x200m and 4x400m relays.
Poland's women's team also enjoyed success on their home soil with a number of outstanding performances and three new world records including Barbara Bieganowska who secured gold covering 1500m in 4:36.03sec.
Team mate Karolina Kucharczyk broke her own world records, with a distance of 5.85m in long jump and a run of 8.99sec in the 60m Hurdles.
In the Men's competition, Portugal topped the medal table winning 5 Gold, 6 Silver and 3 Bronze medals.
Lenine Cunha took his lifetime medal tally to 211 claiming first position in the Triple jump and Long jump with a distance of 12.62m and 5.95m respectively. Additionally, Cunha took Gold in the Pentathlon scoring 2604 points.
In the 400m and 800m race, Portuguese runner Sandro Baessa claimed the titles with time of 52.98sec and 1:58.39sec – an outstanding performance.
Further world records went to French sprinter Charles-Antoine Kouakou (200m) and Ukrainian Oleksandr Yarovyi (throwing 16.15m in shot put).
Virtus President Marc Truffaut, who attended the event, thanked the hosts "As one of the oldest members of the organisation, it is fitting that Sprawn-Razem should host the first competition to be held under our new brand 'Virtus'. The qualities that the brand represents have been on show throughout this event and my congratulations go to all those athletes who achieved record and medal positions".