Virtus Event Calendar
Each year, Virtus works with its member nations to host an extensive programme of world and regional Championship events:
World and regional Championships – Virtus organises world, regional and smaller competitions for all of the sports on its programme. World and regionals are held on two and four year cycles depending on the sport.
Global Games – The Global Games are held every four years and act as the World Championships for each sport featured.
Other competitions – Virtus also recognises other competitions where the results will go towards the world rankings. They may also be recognised as part of the development of the sport. These are know as 'sanctioned events'.
Open Event Bids
Events are awarded through an open bid process, and hosting an event can have considerable benefits for the host nation. It is a chance to showcase sport for athletes with an intellectual impairment throughout your country, a great way to build new partnerships including sponsors, the media, volunteers and supporters, and is a great way to share national traditions and culture with the rest of the world.
2022 European Futsal Championships – deadline for bids 30 April 2021
2022 World Half Marathon Championships – deadline for bds 31st May 2021
Bids should be made in accordance with the specification guidelines which can be found in the Virtus Policies and Procedures and you are strongly encouraged to speak to the relevant Sport Director before commencing your bid.
Virtus will work with you to develop your bid, and if successful, we will work with you at every step of the way to ensure a successful event with lasting legacy.
Four-year event cycle
(click to expand)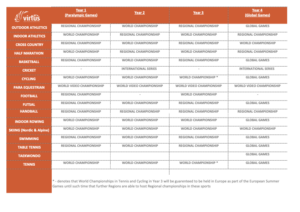 Oct
29
Fri
2021
2021 World Judo Championships – cancelled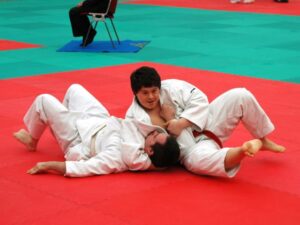 Please note that due to the high levels of coronavirus in mainland Europe, this event has been cancelled. Details of rearranged dates/venue will be announced in due course. 
Nov
5
Fri
2021
2021 Virtus Swimming Championships

Virtus is pleased to announce that CBDI, Brazil will host the 2021 swimming championships in the Paralympic Training Centre in Sao Paulo.
More details will appear here soon.
2021 World & European Half Marathan Championships
Following the cancellation of the 2020 World Half-Marathon Championships, the 2021 event will be both a World and European Championship.
The takes place alongside the Portuguese Half Marathon Championships and is delivered by the Portuguese Athletics Federation.
Jun
23
Thu
2022
World Football Championships and Plate Competition

@ France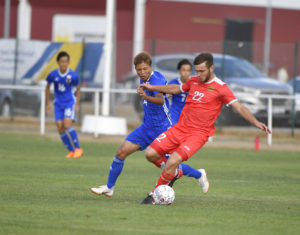 We are delighted that France will host the 2022 World Football Championships incorporating, for the first time, a new Plate competition for up and coming nations.
Entry to the championships is by invitation (based on Virtus Football rankings) however entry to the Plate competition is open.
More information about the event will be available throughout 2021.