Virtus Event Calendar
Each year, Virtus works with its member nations to host an extensive programme of world and regional Championship events:
World and regional Championships – Virtus organises world, regional and smaller competitions for all of the sports on its programme. World and regionals are held on two and four year cycles depending on the sport.
Global Games – The Global Games are held every four years and act as the World Championships for each sport featured.
Other competitions – Virtus also recognises other competitions where the results will go towards the world rankings. They may also be recognised as part of the development of the sport. These are know as 'sanctioned events'.
Open Event Bids
Events are awarded through an open bid process, and hosting an event can have considerable benefits for the host nation. It is a chance to showcase sport for athletes with an intellectual impairment throughout your country, a great way to build new partnerships including sponsors, the media, volunteers and supporters, and is a great way to share national traditions and culture with the rest of the world.
2022 World Half Marathon Championships – deadline for bids 31st October 2021
2022 World Cross Country Championships – deadline for bids 31st October 2021
Bids should be made in accordance with the specification guidelines which can be found in the Virtus Policies and Procedures and you are strongly encouraged to speak to the relevant Sport Director before commencing your bid.
Virtus will work with you to develop your bid, and if successful, we will work with you at every step of the way to ensure a successful event with lasting legacy.
Four-year event cycle
(click to expand)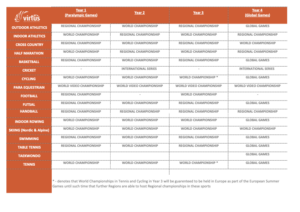 Sep
18
Sun
2022
2022 Virtus Americas Regional Games

@ Brazilian Paralympic Training Centre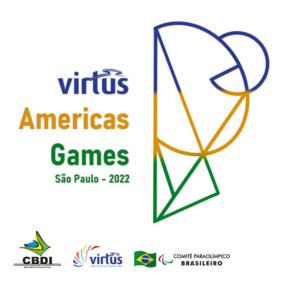 We are pleased to announce the 1st Virtus Americas Regional Games will take place in 2022.
We hope this first Virtus regional multi-sport event in the Americas region, will help grow our reach and provide access to more athletes in more countries. With 16 countries under the Virtus Americas Memberships, the doors are open for new nations to join our global program of elite sports for athletes with intellectual impairments.
The final sport program is being finalised. The following sports are currently planned for the competition schedule – Athletics, Basketball, Futsal, Table Tennis, Taekwondo and Swimming. There may also be demonstration events following consultation with Virtus and National Members in the coming months as we confirm the Official Sport Program. The Final Sports Program is subject to change and final approvals.
Event name: 2022 Virtus Americas Games
Event date: 18 – 23 September 2022
Hashtag: #2022VirtusAmericasGames
Host City: Sao Paulo, Brazil
Venue: Brazilian Paralympic Centre
Key Contact: General Coordinator – Roberto Di Cunto
Email: roberto.cbdi@gmail.com
Nov
5
Sat
2022
1st Virtus Oceania/Asia Regional Games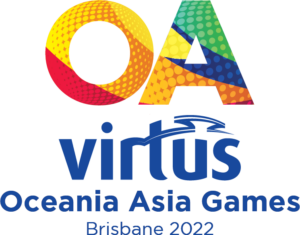 We are pleased to announce the 1st Regional Games for the Oceania-Asia region will take place in 2022. Click for more details.
Jun
4
Sun
2023

France will host the 6th edition of the Global Games. Visit the Global Games page here for details.