Join the global effort – #35YourWay Fundraiser.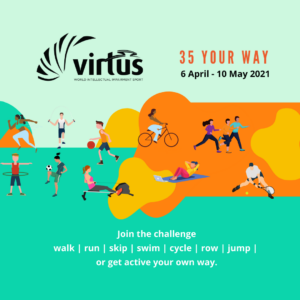 35 Your Way is a celebration of 35 years of Virtus athletes, coaches and officials, staff and volunteers, family, friends, and supporters. It is our first big fundraising effort for 2021 to mark our 35th year of sport inclusion and advocacy, since 1986.
Sport and physical activity are essential to stay fit and healthy, especially during times of uncertainty and social distancing. Physical activity improves mental health, helps beat negative thoughts, lowers stress and depression, and strengthens the immune system.
Support our athletes to get back into Virtus World, Regional and Global Games. Donate to our fundraiser or donate in support of a participant of the #35YourWay challenges.
YOUR DONATION helps dreams come true!
We advocate for sport inclusion and create opportunities for Virtus athletes globally, to show their talents. We are on a journey to make the Invisible VISIBLE
Intellectual impairment knows no boundaries. It cuts across the lines of racial, ethnic, educational, social and economic backgrounds, and it can occur in any family. According to the World Health Organisation's (WHO) Report on Disability there are between 178 million to 256 million people worldwide with an intellectual impairment. That's 2-3% of the world population. It is the largest impairment group and for most it is a non-visible impairment.
We are INSPIRED by the belief that an intellectual impairment, autism or down syndrome should not be a barrier to competing at the highest levels.
Our Vision: "An Inclusive World For People With An Intellectual Impairment"
THANK YOU!
Virtus is the brandname of the International Federation for Intellectual Impairment Sport, registered Charitable Incorporated Organisation in the UK (1173901).