Applying for athlete eligibility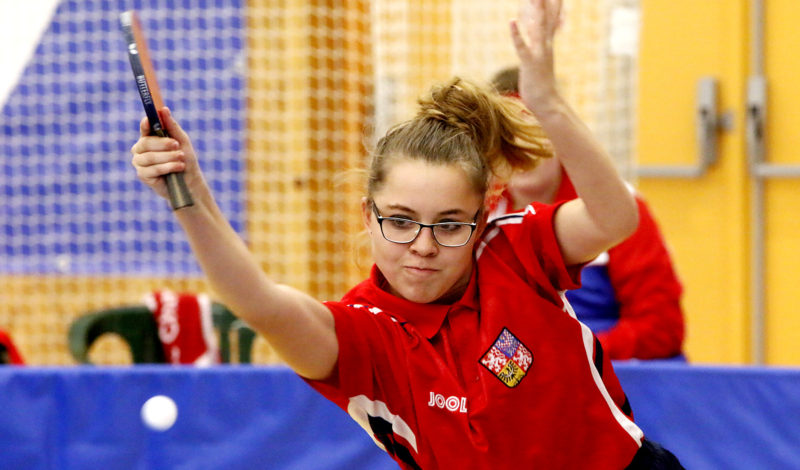 Eligibility and classification are crucial for athletes with intellectual impairments to compete in Virtus competitions and at the Paralympic Games. Read our guide to eligibility and classification
For the Paralympic sports of swimming, athletics and table tennis, eligibility is the first stage any athlete with an intellectual impairment must go through to compete. The relevant International Federation will then guide athletes through sports classification – this establishes whether the impairment has an impact on sports performance. More information about classification is available here.
For non-Paralympic sports, eligibility only is required. This means that an athlete has a recognised impairment. Research is ongoing to develop classification systems in a variety of non-Paralympic sports.
Eligible groups
There are currently three eligibility groups within Virtus competition:
This is the original eligibility group for athletes with intellectual impairments and is included (in some sports) in the Paralympic Games. Athletes compete in swimming, athletics and table tennis in S14, T/F20 and class 11 respectively.
The eligibility criteria is based upon the World Health Organisation and American Association on Intellectual and Developmental Disabilities (AAIDD) research and guidance, and in simple terms the criteria state that an athlete must show:
An IQ of 75 or lower
Significant limitations in adaptive behaviour as expressed in conceptual, social, and practical adaptive skills
Their impairment must have been diagnosed before the age of 18 (i.e. in the developmental stage of their life)
Athletes in the II1 group have certain challenges to overcome during competition. These include pacing during a race, tactics, and fine adjustments such as take-off points in jumping events.
---
II1 National and International eligibility
For II1 athletes, there are two levels of eligibility. Athletes should consult with their Member organisation carefully to identify which level they should apply for.
Level 1 – II1 National Eligibility – (formerly known as Provisional Eligibility) permits entry to some developmental events and some sanctioned national events.
Level 2 – II1 International Eligibility – (formerly known as Full Eligibility) permits entry to regional and World Championships and is a pre-requirement of Paralympic sports classification.
It is very common for people with intellectual impairments to also have physical and/or sensory impairments such as cerebral palsy or visual impairments. Other impairments may include differences in anatomical and muscular structures and heart and breathing problems. Intellectual and physical/sensory impairments often impact together meaning that athletes have to adapt to and overcome both.
Some syndromes which cause intellectual impairments also have additional impairments attached. Down Syndrome is one of these and is the most common form of genetically identified intellectual impairment.
The II2 group is being developed to reflect the variety of impairments that can accompany an intellectual impairment.
In the first stages of the trial, II2 is being limited to athletes with Trisomy 21 Down syndrome. WHO defines Down syndrome as 'an intellectual impairment' caused by extra genetic material in chromosome 21. Based upon this definition, the criteria for II2 is:
A formal diagnosis of Trisomy 21 Down syndrome, and;
A statement that the athlete is clear of symptomatic Atlantoaxial Instability (AAI) – a common orthopaedic problem seen in people with Down syndrome. Approximately, 10-30% of individuals with Down Syndrome have AAI. It effects the cervical spine and strenuous exercise can result in a degeneration of function and pain.
Note: Athletes with Mosaic Down syndrome are currently eligible for II1 competition.
The criteria for this group will be revised and expanded as the project progresses and research data becomes available.
Autism or Autism Spectrum Disorder (ASD) as it is now commonly known, is defined by WHO as a group of complex brain development disorders situated on a continuum of severity. These are characterised by difficulties in social interaction and communication and restricted and repetitive interests and activities.
Awareness of autism and ASD is growing across the world in both adults and children. Around 60-70 per cent of children who are diagnosed with autism are also diagnosed with intellectual impairments. However, some people do not have intellectual impairments, and this condition was previously referred to as Asperger's syndrome, or is sometimes called high functioning autism.
This new group has been developed by Virtus to provide life-changing opportunities and to enable those people with autism and no intellectual impairment to compete at the highest levels.
The eligibility criteria for II3 is:
A full-scale score of IQ of above 75, and/or no diagnosis of intellectual impairment (evidence of functioning cognitively at average or above average levels)
A formal diagnosis of autism, ASD or Asperger's syndrome, carried out by a qualified practitioner using accepted diagnostic techniques.
Virtus will be monitoring and evaluating the new eligibility groups over time to refine and develop the criteria. It reserves the right to amend or remove the eligibility criteria at any time. The new criteria are specific to World Intellectual Impairment Sport competition only.
Applying for athlete eligibility
Athletes wishing to apply for athlete eligibility should first contact their National Member Organisation. Applications will not be accepted unless they are submitted through, and endorsed by, a member organisation.
Athletes must appear on the Master List no later than the final entry deadline of the competition for which the athlete is considering entry (these dates can be found on the events page).
Virtus recommends that new applications for national eligibility should be submitted at least four weeks before the final entry deadline. New applications for international eligibility should be submitted at least 12 weeks before the final entry deadline.
Please note that there is no 'guest' entry to events.
---
National Eligibility Officers (NEOs)
National Eligibility Officers are responsible for managing the eligibility process at a member organisation level. All World Intellectual Impairment Sport Members should register their NEO.
The NEO must be a qualified psychologist, and must not be the person conducting assessments. The NEO should review the athlete eligibility application form and all accompanying reports before it is submitted to Virtus. This is to ensure it meets the requirements set out in the application guidance notes.