#AWinningMindset is an amazing podcast series, and today features Australian Paralympian Todd "The Hulk" Hodgetts.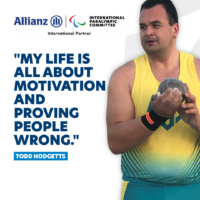 Todd shares about his life with a non-visible disability, in which he speaks openly about his everyday life, how he interacts with others and why he is far more than just a man with a disability. It's powerful, and it's educational. Listen to Todd's full podcast.
The International Paralympic Committee series A Winning Mindset: Lessons From The Paralympics, is delivered in partnership with Allianz. It is designed to provide life lessons to listeners and show the importance of having the right team behind you.
A new episode is released every Friday. Listen to all podcasts:https://www.paralympic.org/a-winning-mindset-lessons-from-the-paralympics
Background:
Each podcast will provide a platform for Para athletes to talk about their empowering and inspirational stories, sporting life and greatest achievement and enable them to showcase their personalities. A fascinating journey into the minds of Paralympians, as they share experiences that can benefit your own personal and professional life.
The episodes will go beyond Paralympic stories by covering a range of educational, confidence and self-improvement themes.  Athletes will also tackle subjects that are close to their hearts and of interest to fans. Issues to be explored include activism, leadership, motivation, changing attitudes, overcoming failure, mental health, resilience, positivity, diversity and inclusion, body confidence, compassion, decision-making, communication, self-understanding, happiness, organisation and efficiency techniques, combining family with a sport career, parenting, the power of purpose and a personal vision, assertiveness, empathy, friendship and teamwork.
The Paralympic podcast series is available on all major podcast platforms and is presented by British broadcaster Andy Stevenson, who has reported on the Paralympic Games since 2012 for BBC and Channel 4.
Source: www.paralympics.org